Digital Signage Solutions...
Digital Signage is now accepted as the smart way to promote your product or service. It gets your message across in a dynamic way, and you have total control over what you display and when. Perhaps you are looking for the kind of eyecatching digital billboards that light up Times Square. Or something as simple and effective as the bus information displayed on an electronic signs at your local stop.

Digital Signage Solutions have a answer for your digital display needs, however big or small.
Our signage solutions are both robust and reliable and we have displays that can be used inside or outside. If you want something really spectacular DSS can join screens together to create a giant video wall.

Think of how far billboards have come since the early versions painted onto the sides of Victorian buildings. Now the cutting edge digital displays can show promotional films (VOD), stream live information such as breaking news, weather or travel (RSS feeds) and even live TV (IPTV). Electronic Signage is being embraced by all savvy industries and organisations because of its flexibility and unparalled ability to communicate information and services, crucially with the personal touch.


Neilsen research reveals that the latest digital advertising (screens) in the US generated more than 237 million monthly exposures to adults 18 or over in 2009. And they reached more than half of the American population in this age group. It is by far and away the most important way to reach your audience, whether it's bank customers, hotel guests, hospital employees or public transport users.

Of course, you want to know that this technology is reliable and that you have a technical support team that will keep your electronic digital signage fully functioning.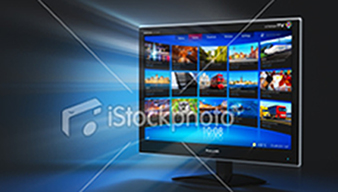 Digital Signage Solutions is a company with a proven track record in the industry. And crucially, we are not just experts in commercial audio visual installation, but we are IT specialists as well. Some companies might get your digital signage up and running, but they may not provide the combined technical backup which gives you peace of mind. Contact us today to find out more on how we can help you.

Digital Signage
Supports all screens and a variety of different video formats
Platform options include thin client, Windows, set top boxes (STB) and media players
Ability to schedule and zone content based on location or purpose
Interactive: trigger content to play based on input from touch screens, smart phones and barcode readers
Support for a full range of media formats including; text, images, animated gif, PowerPoint, HTML, RSS feeds, scrolling text, video and live television
Control external devices such as lighting, sound and displays with CEC, UDP and serial commands