Publish...
Deliver Content to Your Digital Display with Ease

As well as giving you the tools to display and communicate with your audience through digital signage, video walls, commercial panels and touch screen displays, Digital Signage Solutions wants to give you the ability to publish and edit your own content for use in any given scenario.

We can help you publish content directly to your system in a range of formats, making it as easy as possible to keep information relevant and up-to-date.

Direct Access to Your System

Through our content systems you can create playlists, schedule video and stream live video feeds through your electronic display.

Our systems make use of technologies like RSS feeds that constantly stream content while systems like media boxes allow you direct and easy access to locally stored files so that you can edit what's appearing on screen directly.

Our work with interactive displays can help you engage your clients one-to-one. Touch screen kiosks can store personalised information about your hotel or gallery and be navigated at will by users.

Eye-catching and easy-to-use, Digital Signage Solutions can install a system for you that's impossible to pass-by.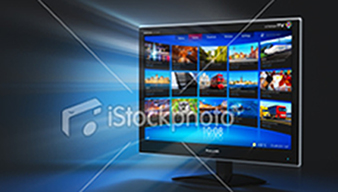 Find out more about the different types of displays we work with and the ways in which we can help you communicate with your audience.
Publish
Create rich multimedia experiences by combining a variety of media types and files utilising our intuitive content management software
Playlist creation, scheduling and zone control of content
Streams standards based MPEG-2 and MPEG-4 content
Create interactive playlists incorporating buttons, levers and even motion sensors

If you have an enquiry or want to talk about your project with us, contact the Digital Signage Solutions team today.