IPTV...
Internet Protocol Television, more commonly known as IPTV, is a system where television is delivered via an internet system rather than the more traditional terrestrial or satellite options. The big advantage of this new technology is better picture quality and the ability to view either through television equipment or any computer or portable device.

Web TV also simplifies the delivery of television content by using a single unit known as the Triple TV head end. Basically it does away with the need for individual receivers and encoders for the various signal types. Remarkably, a single head end can deliver more than 80 live TV streaming channels and be combined with various platforms such as Sky and Freeview to provide a bespoke video on demand service for each customer.

The IPTV software is intuitive, easily configured and provides management reports so that it can be trouble-shooted with the minimum of hassle. Triple TV's unique software design means that customers can run diverse platforms such as digital signage, video on demand (VOD) and digital TV channel all on the same system.

TV on demand also monitors the quality of the signal at all stages of delivery to ensure the highest quality viewing.
Digital Signage Solutions Triple TV head end will keep pace with emerging new technology. Since we are all going digital for TV shows online, customers can be assured that their investment is future-proofed.

This clever live TV streaming format has revolutionised the way we watch television and what we can do with it. The ability to marry so many different platforms together makes the technology a great cost effective business solution. That's why it's so popular with discerning hotels, retirement villages, hospitals and schools and universities.

Our technology has won plaudits all around the world. At Dublin's Citywest Hotel, the largest four star establishment in Ireland, our online TV system has proved to be the perfect solution for meeting the diverse demands of guests.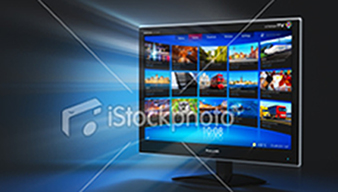 They can access video on demand, information on the hotel's services or find out what the weather is doing, all at the click of a button or by using their personal mobile device. And the hotel is able to present a consistent branding for all of its in-room entertainment because all services are delivered through the same IPTV system.

To get more information on our Internet Protocol Television System contact us directly by phone or email.
IPTV
Supports a wide range of content sources including free to air, encrypted signals, digital satellite, digital terrestrial, digital cable, and third party systems
Playback support for MPEG-2, MPEG-4, standard and high definition video
Support for all common DVB-CI encryption formats including Mediaguard, Irdeto, Viaccess, Securemedia
Packet ID (PID) Management efficiently manages bandwidth by only broadcasting information required for the end device
Integrated EPG (Electronic Program Guide)